[Information Communication News] Installation of video based 12 sides parking guidance system
관리자 ㅣ 2019-08-29 ㅣ 3678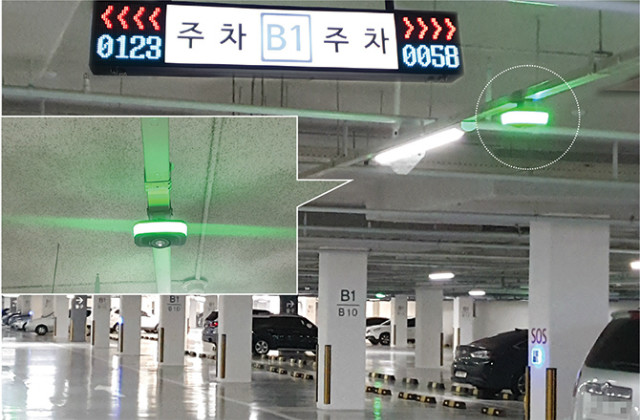 QDIS installed 12 sides parking guidance system in the parking lot of Central-Prugio apartment in Gyeong-ju.
QDIS (CEO Kim Seong-jin), which stands out by introducing various solutions utilizing the omni-directional lens technology, recently completed the construction of 'Video based 12 sides parking guidance system' in the apartment parking lot.
According to QDIS, the construction of the image-driven 12 sides parking guidance system, which installs 300 5M integrated all-in-one cameras, was completed smoothly in Central-Prugio Apartment in Gyeong-ju.
The 12 sides parking guidance system of the video system indicates whether the parking is possible on the 12 sides parking surfaces with a red-green lamp which is applied to omnidirectional camera case.
The camera itself determines whether or not parking is possible on 12 parking surfaces, and the lamp is operated in red and green so that you could quickly find out available parking space location.
QDIS plans to install the same 12 sides parking guidance system in the metropolitan area of XI Apartment next month.
Starting from 2020, the company plans to provide the Find My Car function and security without blind spots with a 12M omnidirectional camera that can recognize 6 ~ 8 sides of vehicle number with one camera.
In addition, a wireless system that can be installed in the old buildings without additional wiring work is being developed and tested in the field. From the second half of 2020, QDIS is planning to increase the application of the image parking guidance system to the existing/old buildings.
Kim Sung-jin, CEO of QDIS, said, "So far, sensor-based parking guidance systems have been the mainstream, but video based parking guidance system have been installed a few years ago and which will be utilized more actively."
He added, "With the parking reservation, parking sharing, parking guidance service around navigation destinations and parking fee payment services being introduced, video based parking guidance system is attracting more attention." "At the end of 2020, the security function will be equipped with a fire detection function so that it will become more multi-functional that parking guidance, security and fire detection will be available."
Source: Information and Communication Newspaper (http://www.koit.co.kr)