Become the eyes of smart city using 360 degree camera lens
관리자 ㅣ 2018-12-12 ㅣ 1040
- December 11, 2018 Green Economic Online newspaper Articles
"If the technology that can recognize fire is applied to the camera that we are developing, we will be able to cope with an incident similar to KT Ahyeon branch early on."
This is the story that Kim Sung-jin, the CEO of QDIS, gave me when I explained the 360-degree camera. QDIS now has a 12 megapixel camera
It aims to release fire recognition algorithm that recognizes fire and smoke and can detect fire.
It is Kim's plan to further expand the area of ​​energy conservation and traffic flow analysis as well as disaster situations.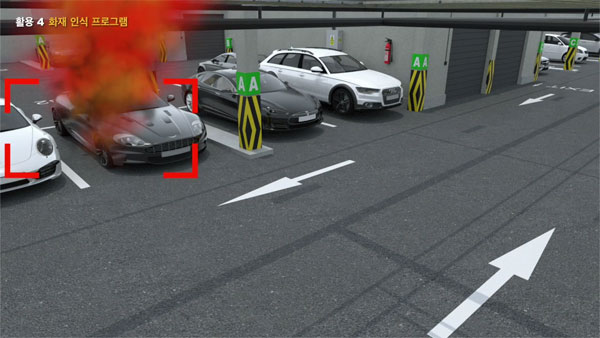 QDIS was founded in December 2005 and produces automotive multimedia products for overseas famous car brand such as Audi, Jaguar, Lexus and Peugeot.
QDIS has 60 employees and sales of $10 billion (as of 2017). It is well known as an interface device maker that can connect an external video source such as aftermarket navigation, rear camera, and digital TV to a genuine car monitor.
Promising companies that provide aftermarket products are looking for new industries because of the market atmosphere that can not guarantee the future.
This is why we are so anxious that we can lose our market to Chinese companies.

As a result, QDIS has begun to change its focus to optical solutions-oriented business by establishing the VR business headquarters in 2016. From this time, the automobile multimedia system company turned to the next generation CCTV and security system solution company.
Kim said, "The aftermarket can not cope for a moment when the Chinese companies are horrified by the low price.
I decided to use the technology to find future industries." "When I saw the parking application system applied to Incheon Airport parking lot and some brand apartment, I thought it was this!
" He added, ""Now the parking control system is used as a premium strategy, but over time it will become popular and expand into various fields." "With that in mind, we are also working on a 24-megapixel all-in-one camera with an intelligent situational awareness system,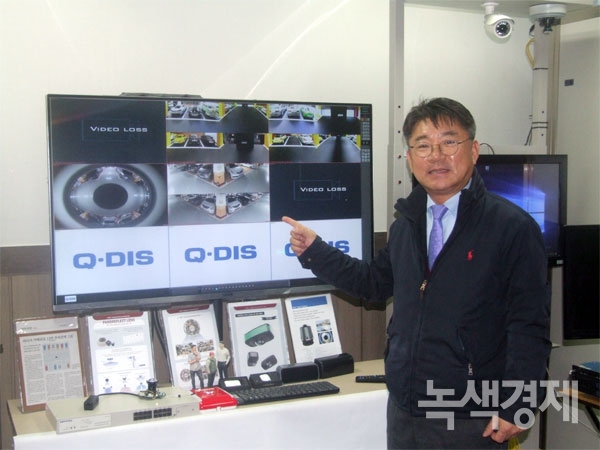 Q&A with QDIS Kim Sungjin CEO
What are QDIS's main business areas and what are the food for the future?

Since its establishment in December 2005, it has been developing and producing multimedia products for automobiles mainly in the aftermarket automotive video interface.
Most of the current sales are aftermarket automotive multimedia products.
We will start investing in IP camera business from 2014, launching VR business unit in August 2016, and diversifying products that utilize patented food patents over the next 10 years.
It is under development. In particular, sales of IP camera-related products have been on the rise since September 2018.
In the first half of next year, It is expected to rise to more than 50%. The main item is a 12-door parking control system that manages 12 cars simultaneously.
A 360-degree panoramic camera equipped with a patented pano-reflex lens, which is a patented technology, is installed in the parking lot, and it is analyzed and judged whether it is possible to park a maximum of 12 parking spaces per camera.
Through this process, it not only informs the possibility of parking with red green lamp, but also monitors the parking lot 360 degrees to form security without blind spots.

QDIS is planning to analyze traffic image, analysis of traffic flow, notification of disaster situation, illumination control for energy saving, access security, and safety care service for single people.
We are also planning a solution through technical cooperation with the university and the artificial intelligence technology company.
In the future, we will be able to grow into a market where we can take on the important eyes of Smart City once we have these solutions.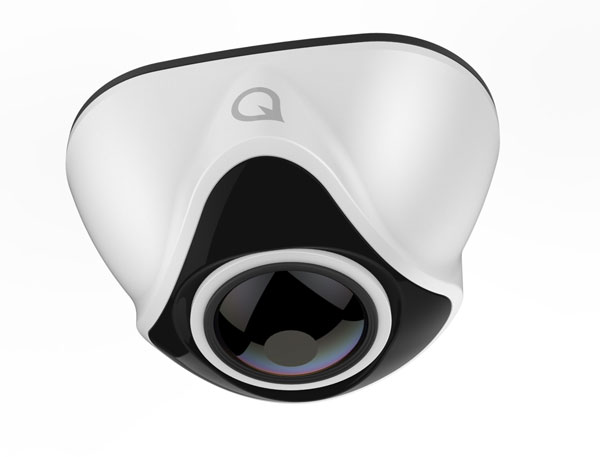 If there is an area that is considering overseas expansion achievement and future advancement?

Since the second half of this year, the company has launched a parking control system and marketing activities to related industries. It was first sold in September for the parking control system for the procurement market.
Overseas, We participated in the London Security Exhibition (IFSEC) last June and promoted the all-round lens technology.
In the US market, we are promoting our products with an agency that promotes our products. In May this year, we exhibited lighting control products using the omnidirectional camera at the Chicago Light Fair.
In order to enter the Japanese and Southeast Asian markets, we are seeking on-line promotional routes such as Google PR.
QDIS has established a VR division in 2016. What are the businesses that are preparing to expand beyond the optical solution business and beyond?
The focus will be on developing solutions using proprietary technology called pano-reflect lenses.
We are developing a solution that can provide a wide range of disaster surveillance and convenience enhancement by taking advantage of the superior image quality of the outside lens.
It is expected that it will play an essential role in future smart cities.

In addition, since these items are difficult to perform on a stand-alone basis, they have been carrying out industry-university cooperation with Professor Lee Seung-ho of the Hanbat National University since 2017.
In addition, we are preparing to make convergence products to lead the market by working with various companies such as deep learning AI development, sensor and lighting.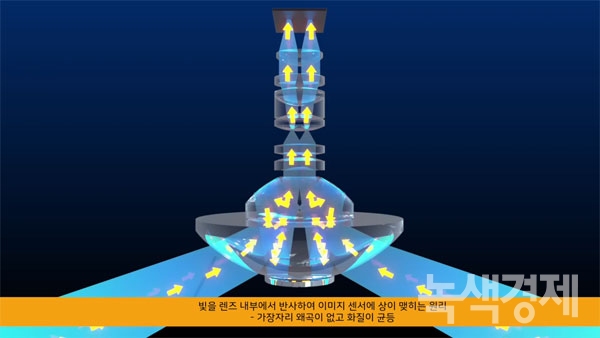 If market trends are shifting to intelligent systems, do you anticipate future trends?

Camera image quality and number recognition are widely used. It will focus on improving traffic flow in the future or minimizing losses by notifying the fire promptly.
It is expected that the camera will perform important functions on Smartcity such as detection of early disaster and traffic service improvement by combining various recognition technology and deep running.
What is the status of development of 360 degree IP CAMERA?
In 2016, it mass-produced 5M-class cameras. In the second half of 2018, it developed and tested for 3 years and successfully mass-produced 12M-class cameras.
The 12M-class camera will be equipped with a fire recognition algorithm that recognizes smoke and flames to detect fire, and will exhibit at the SECON exhibition next March.
The 24M class camera, which is under development since 2017, can be launched in the second half of next year. When the 24M class camera development is completed, more precision can be achieved in applying face recognition and fire recognition functions.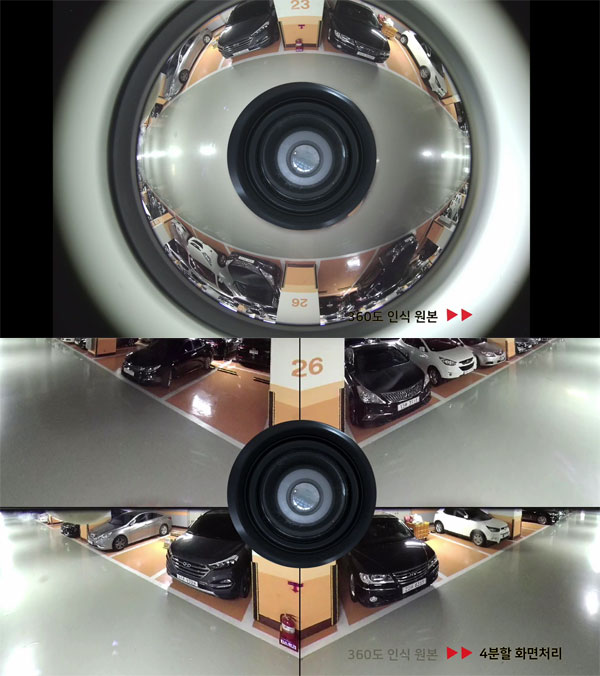 What are the areas where development will be completed in 2019?

In the first half of next year, the development of a fire detection technology that detects flame and smoke with a omnidirectional camera has been completed. In the second half of the year, a face recognition algorithm capable of recognizing faces in a wide area with the omnidirectional camera is completed.

What is the outlook for the parking control system market?
The domestic parking management solution market grew at a 7.99% from KRW 1,589 billion in 2011 to KRW 1,998 billion in 2014, according to the Korea Credit Information Agency(2016.6). It is expected to grow by 11.96% annually in 2019 to reach KRW 3,786 billion.
In particular, as the Crime Prevention Building Standards Notice was enacted in April 2015, it is necessary to build a parking lot for cultural meeting facilities, education research facilities, ancestor facilities, training facilities, and officetels including 500 or more-generation apartments without blind spot. Therefore, it is expected that the demand of the intelligent parking control system of the QDIS which can simultaneously perform camera security and subject control can be increased.
Jong Dong Jin reporter lycaon@greened.kr