QDIS Co., Ltd donated $13,000 worth of research equipment to Hanbat National University.
관리자 ㅣ 2018-10-26 ㅣ 331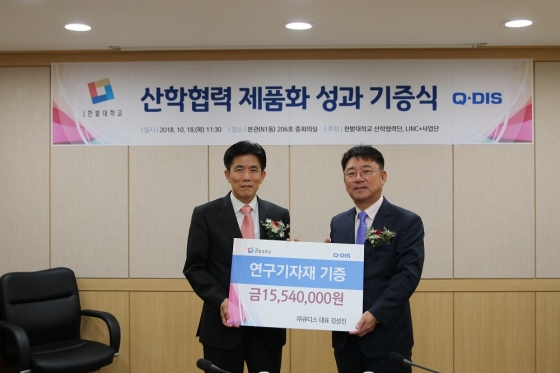 Hanbat National University recently has been donated $13,000 worth of research equipments from QDIS Co., Ltd to donate the achievements of the university-industry collaborations.
The research equipment donated by Hanbat National University was developed through cooperation with QDIS and industry-academia cooperation,
and it is a field test equipment for 'Integrated intelligent parking control system using 360degree CCTV camera and crowding system'.
We implemented 6 high-resolution 360-degree CCTV cameras so that 6 sides parking lots can be shot at the same time.
The parking control system was developed by Professor Seung-Ho Lee under the guidance of 'Power Video Vision' team of Electronics and Control Engineering and won the '2018 WTA Binh Hi-Tech Fair Idea Competition' held in Vietnam recently.
This technology can be replaced with a single camera, which has previously required installation of CCTV and sensors for each parking space. △ Real-time parking position detection using multi license plate recognition
△ Vehicle motion-based lighting interlocking system using image processing △ And real-time integrated monitoring where management servers are linked to crowding systems.

Choi Byung-wook, president of Hanbat National University, said, "Thanks to QDIS donation of research equipment, efforts are being made to promote education and research such as capstone design program and student research club activities at our university."
President Sung-Kin Kim of QDIS said, "This research material is the result of fusion of our camera lens technology and Hanbat's creative ideas. We will continue to work as a technology development partner in Hanbat."
QDIS is a Venture company that has obtained the certificates of 'Inno-Biz' and 'Small Giants'
Article Source : https://news.v.daum.net/v/20181022113436425