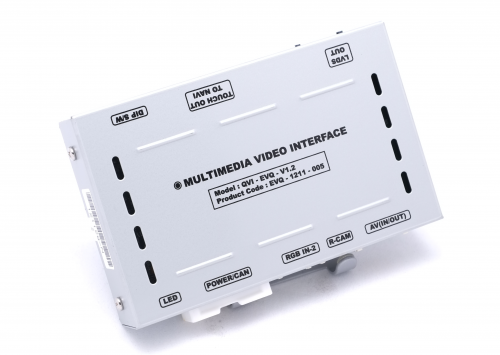 ■ External DVD, DTV control via Touch Screen as IR code memorizing from each video
source remote.
Controllable displayed position of each external video sources on RGB, A/V modes.
■
Dual RGB inputs
(RGB IN-2, for Smartphone Mirroring with SMI only.)
■
Select to use "AV3" or "HDMI" by RGB IN-2(FACTORY MENU)
■
Selecting how to detect the rear view camera(LAMP or CAN)
■
Able to switch videos via the original buttons ('NAV' button)
Compatibility
Brand

Model

Model years

System

From

To

Land rover

Range rover Evoque

2011

2013
1. Input Spec. (MULTI VIDEO INTERFACE)
- 3 x A/V Input (External video source).
- 1 x CVBS(REAR CAMERA) Input. (Rear camera source)
- 1 x Analog RGB Input (Navigation System output)
- 1 x LCD Input (Car system Input)
2. Output Spec.
- 1 x GVIF Output
- 4 x Audio Select (12V power comes out from 4wires of cable by video, Navi mode)
- 3 X 12V SEL
3. Power Spec.
- Input Power : 8VDC ~ 18VDC
- Consumption Power : 12WATT, Max
4. Switch Input mode
- Input Video MUTE Function : Possible to make each input mute by operating Dip S/W.
- Possible to switch Input mode with switch for source toggle
- Possible to switch mode through CAN
- Possible to switch Input mode by an original button